From io9.com: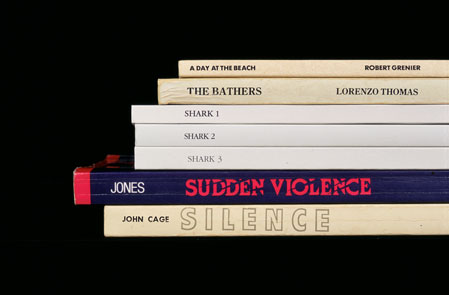 The series Sorting Shark from the Sorted Books project. Pictured above: A Day at the Beach. C-prints, each 12.5 x 19 inches, 2001
Nina Katchadourian borrows the words she uses for her unusual poetry from the spines of books. She arranges those spines, book upon book, so that they form brief poems that are often insightful and surprising.
Katchadourian's Sorted Book Project manages to become more than an experiment in medium. Her playful photographed poems are sometimes cleverly arranged jokes or amusing images, but at other times, they are short and stunning thoughts on the nature of art and artists. You can see the full range of her multidisciplinary talent at her website.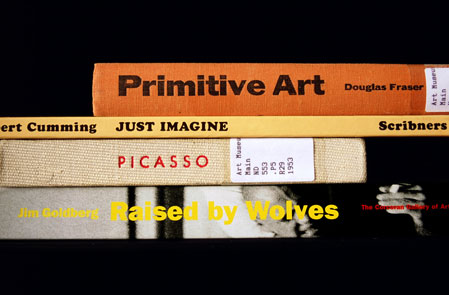 The series Akron Stacks from the Sorted Books project
.
Pictured above: Primitive Art. C-prints, each 12.5 x 19 inches, 2001
The Akron Art Museum in Ohio commissioned me to do a book sorting using the holdings of the museum's research library. Their book collection had extensive materials and catalogs from various contemporary art exhibitions, as well as many large-format, hardback monographs. The books from the library did not circulate to the general public, and the library itself was so separate from the main exhibition areas that visitors had no idea there was a library there at all. There was a special section on the business and fundraising side of museum administration, books that felt particularly important to use since these activities are often behind the scenes of the exhibitions. When the sorting project was complete, the book clusters were brought to the gift shop located behind the front desk and integrated into the displays.